I've just came back from GUADEC 2019, which happened in Thessaloniki (Greece), and it's time to a small report of what has been accomplished there.
As most of you probably know ... although I'm not exactly a GNOME developer, I do a bunch of work which is either specifically to be consumed by GNOME Boxes (and other management applications will take advantage of the work) or GNOME Boxes can, at least, take advantage of.
With that in mind, I've headed to GUADEC 2019 with basically two major things to do:
- Meet my Google Summer of Code student and plan what's going on for the future;
- Join the GNOME Boxes' BoF and check whether we could have an agreement on how to default to UEFI whenever it's possible;
What I didn't have in mind, though, was that I'd be able to meet people like Will Thompson (from Endless OS), Carl Richell (from System76), and Cassidy James (from Elementary OS). Talking to them in person was something amazing which allowed me to have conversations on how to have the work they do better present in GNOME Boxes (with regard to displaying updated entries, in case of Endless OS and Pop!_OS, or with regard to having their entries added, in case of Elementary OS).
Those were mostly hallway talks which would be quite hard to have on IRC, but was ridiculously natural to happen in person as everyone involved was *really* approachable.
GNOME Boxes' BoF went well, although we were only a few of us there. Some nice discussions happened about importing/exporting the VMs, UEFI support for Boxes, OSes Boxes recognize and how to improve those. A huge thanks to those who showed up!
Anyways, talk is cheap they say ...
- Here is a merge request provided by Will Thompson for osinfo-db, not only updating our entries but also adding a script to automatially do this for us in the future:
https://gitlab.com/libosinfo/osinfo-db/merge_requests/27
- Here is an opened bug for Pop!_OS about doing the same:
https://github.com/pop-os/pop/issues/644
- Here is a merge request from Cassidy allowing GNOME Boxes to use Elementary OS logo:
https://gitlab.gnome.org/GNOME/gnome-boxes-logos/merge_requests/4
- And, Cassidy, I'm going to contact you soon now that I'm back in Brno and we can arrang further collaboration in order to have Elementary OS entries as part of osinfo-db and, hopefully, keep them up-to-date in the same wat was we're going to do with Endless OS and Pop!_OS.
- Here is libvirt-glib, libosinfo, and GNOME Boxes merge request about using UEFI as default whenever it's possible:
-
https://www.redhat.com/archives/libvir-list/2019-August/msg01162.html
-
https://gitlab.com/libosinfo/libosinfo/merge_requests/13
-
https://gitlab.gnome.org/GNOME/gnome-boxes/merge_requests/199
Last but not least, I've had the chance to not only meet new people ... which is always a huge pleasure, but also meeting some good old friend which I usually don't have the opportunity to see and hang around together. This is priceless!
A huge shout-out to:
- everyone involved in organazing GUADEC 2019, it was amazing!;
- GNOME Foundation for the flight tickets and accommodation sponsorship;
- Red Hat for sending me there and allowing me to work on and to work for improving GNOME Boxes;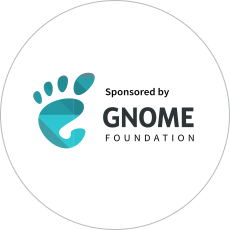 Off-topic:
- Nice surprise to see Jason Evangelho's post about Boxes:
https://www.forbes.com/sites/jasonevangelho/2019/08/23/linux-virtual-machine-app-gnome-boxes-has-an-awesome-time-saving-feature-you-should-know-about/#4104b72018fe
- Kudos to everyone involved in the GNOME Boxes & libosinfo projects!
- I really appreciated the Beach BoF happening exactly on my birthday! :-)